Posted on 26. Mar, 2013 by mosesr.
On the 20th March 2013, the Ministry of Agriculture and Livestock has handed over a 400–egg small poultry incubator. It was handed by MAL Undersecretary Mr Jimmy Saelea to the Chairman of KGA Moses Pelomo who received the machine on behalf of KGA management. The ceremony took place at the KGA compound in the presence [...]
Posted on 15. Feb, 2013 by mosesr.
Last year the World Foods Day was successfully launched Gizo. It was co-host by the Kastom Gaden Association, Ministry of Agriculture and Livestock and Lodurimata Farmers Association. World Foods Day is celebrated globally on the 16th October each year to mark the global action against hunger. This year world food day theme is "Agricultural Cooperatives [...]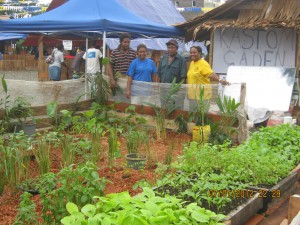 KGA during the national trade show have promtoes the organic farming practises and backyard gardening. KGA has been working with farmers to promtoe organic farming practises which is good for the helath and the environment of our communities. PMN members or planting materials network  and farmers in teaching farmers organic way of gardening. [...]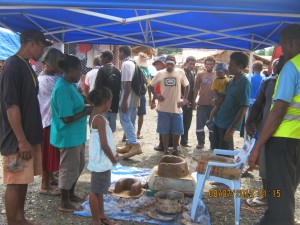 Joyce prepare materials for kiko stove Kiko stove was one of the lights during the national trade show at KGA stall. demonstration was done for 2 days during the show which attract  more then 100 people coming to see the demonstration and to see the stove. KGA is promting the idea of using local [...]
   Morphological Characterisation KGA staff  on job attachment .  Sevie Lausao Six participants from the  three western pacific co untry's  of Papua New Guinea,Vanuatu and Solomon Islands had recently completed a  two months "Job attachment programe organised by the Western Pacific-NARI-EU-ACP S&T Programme in PNG . They were divided into two groups of [...]
Posted on 19. Jan, 2012 by tonyj.
The 3014 members of the PMN should expect to receive a letter from PMN in the next few weeks if they have not received it already. Included in the letter is an application form for the 2012 PMN farmers conference to be held in February at Visale on Guadalcanal.  Also included is a reminder for [...]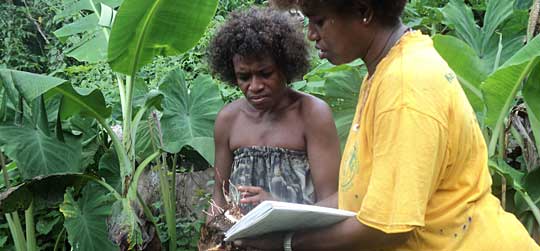 Ms Mary Joyce, a Baetolau local improved plant protection trainer had just completed her five days farmers support program in Central Bouro, Makira/ Ulawa Province from the 6th – 11th November 2011.