The Gwaunifiu Report – learning from experience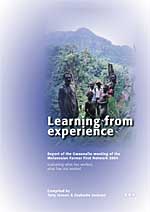 Report of the Gwaunifiu meeting of the Melanesian Farmer First Network 2004.
This is an assessment of what has worked and what has not. Compiled by Tony Jansen, TerraCircle program manager, and Grahame Jackson, TerraCircle crop pathologist. Editing and design by Russ Grayson.
[
Download
] PDF file 868KB